REGISTRATION CLOSED

Thank you for making the Indian Restaurant East 2017 a grand success

Testimonials
I think the East India edition was a fantastic event and had the whole restaurant fraternity there, discussing and exchanging ideas and direction. I look forward to more events in Eastern India and a great future ahead.


- Chef Shaun Kenworthy, Celebrity Chef and Consultant

It's such a open forum platform where all industry experts can be able to listen . It's must attend event to keep yourself updated.


- Mr. Rohit Malhotra, Business Head- India, Barcelos

It was a pleasure attending the conference and a great learning.



- Chef Alok Anand, Executive Chef, JW Marriott Kolkata

The event was really grand and we enjoyed every bit of it. The sessions were well thought out and the insights shared were really great. Entire 6 Ballygunge Place family wants to thank the team responsible for putting such an effort successfully.


- Chef Sushanta Sengupta, Founder Director & Chef Savourites Hospitality Pvt Ltd

The event was a great initiative to bring together a lot of stakeholders of the restaurant and food service industry and discuss the challenges facing our industry.


- Chef Vikas Kumar, Executive Chef, Flurys Swiss Confectionery Private Limited

The Restaurant India 2017 Kolkata Edition was an ice-breaker for the Kolkata Restaurant Community. It is also acted as a gateway to East Indian market (including North-east). Franchise India has been known for organizing such events and Kolkata edition was one more proof.


- Nilesh Shah, Co-Founder, RanceLab
Food for Thought with a Regional Touch
The Juggernauts of restaurant business in East has been so very impactful in evolving the overall business fundamentals, that there existed a need for creating a unique platform that will behave as the sponge of knowledge grasping and sharing.

Restaurant India 2017 Kolkata is one such effort that will be aimed at initiating industry dialogues within peer groups. This single day event is exclusively designed to serve as the multi-disciplinary platform featuring a power-packed conference which will cover a wide range of topics crucial to discover growth paths. Also, there will be industry specific workshops to help the participants and patrons to identify newer business opportunities, discover ideas on how to scale and build successful brands and the role of technology in today's dynamic times.
Know More
Conference
The one day conference will bring together industry veterans to interact and draw attention to best practices and promote innovation to capture consumer interest that will help grow the Indian Restaurant Sector.
Conference
Agenda
View Full Agenda
View Full Agenda
Block your Seat
Restaurant India
Overview
The Asia's Biggest Business event, where more than 500 restaurateurs,entrepreneurs, leaders, investors, Global Experts and journalists gather together
Restaurant Brands

National Experts
& Innovators
AWARDS
East India Edition
Best Restaurant of the Year - Kolkata
Best Restaurant of the Year - Jamshedpur
Nightlife Awards
Best Restro - Bar of the Year
Best Gastro-Pub of the Year
Cafe & Bakery Awards
Cafe of the Year
Tea Cafe of the Year
Special Awards
Business Growth Award
Best Food App of the Year
Nominate yourself
EXHIBITION
Understanding this growing need and opportunity for integrated Restaurant businesses, we are pleased to share with you that parallel to the convention there will be an expo designed as one stop shop for exploring: best technology suppliers, innovative tools, ink tie-ups with best in league distribution channels, co-branding alliances, international development opportunities. You could plan a perfect Business, Product Display, Showcase and Launch opportunity to a niche audience of over 500+ key decision makers and brands from the restaurant industry.
Book your Stall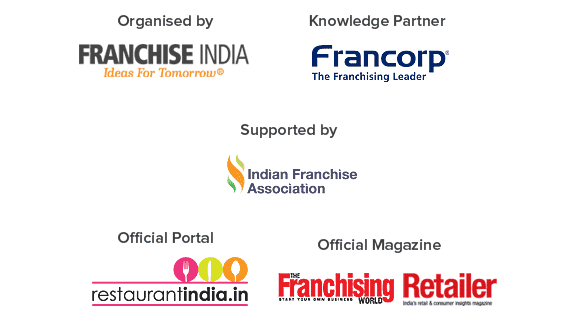 Powered by: