Hotline Nos. : +91 8595350505
REGISTRATION CLOSED

Thank you for making the Indian Restaurant East 2017 a grand success

Testimonials
I think the East India edition was a fantastic event and had the whole restaurant fraternity there, discussing and exchanging ideas and direction. I look forward to more events in Eastern India and a great future ahead.


- Chef Shaun Kenworthy, Celebrity Chef and Consultant

It's such a open forum platform where all industry experts can be able to listen . It's must attend event to keep yourself updated.


- Mr. Rohit Malhotra, Business Head- India, Barcelos

It was a pleasure attending the conference and a great learning.



- Chef Alok Anand, Executive Chef, JW Marriott Kolkata

The event was really grand and we enjoyed every bit of it. The sessions were well thought out and the insights shared were really great. Entire 6 Ballygunge Place family wants to thank the team responsible for putting such an effort successfully.


- Chef Sushanta Sengupta, Founder Director & Chef Savourites Hospitality Pvt Ltd

The event was a great initiative to bring together a lot of stakeholders of the restaurant and food service industry and discuss the challenges facing our industry.


- Chef Vikas Kumar, Executive Chef, Flurys Swiss Confectionery Private Limited

The Restaurant India 2017 Kolkata Edition was an ice-breaker for the Kolkata Restaurant Community. It is also acted as a gateway to East Indian market (including North-east). Franchise India has been known for organizing such events and Kolkata edition was one more proof.


- Nilesh Shah, Co-Founder, RanceLab
Restaurant India 2017
Over the past few years the region has witnessed humungous cultural shift across consumer demand algorithms. The restaurateurs are hence keeping pace with emerging demand triggers and key trends by introducing innovative gourmet concepts which seems to be scalable and popular already among masses.

Taking in considering all those factors we at Franchise India felt the need to bridge the gap and create a cross lineage between the industry players and emerging brands to come on a single platform to tackle various business challenges and celebrate the new partnerships.

The exclusive Conference will largely be divided into five prominent sessions including a state of the art workshop specially designed to empower the fraternity with business consultancy pointers shared by industry experts. The conference will be aimed at delivering value through setting a two way dialogue among the participants and delegates to find passages of exponential business growth together!
Who should attend?
Chain Store/Standalone Restaurant Owners
Multi-Unit Restaurant Franchisees
Executive Chefs
F&B Directors
Professionals Managing Operations -Finance, Marketing & SCM Functions
Investors/Entrepreneurs looking to start a Restaurant Business
Food-Tech Startups Seeking funding or growth opportunities
Restaurant Industry Products/Services/Solution Providers
Food manufacturers & ingredient and raw material private label suppliers
Menu R&D Experts
Processors and packers
Bankers & Financial Institutions
Angel, PE, VC investors
Supply chain and logistic providers
Retail design and shop fit firms
Trade associations and trade press
Commercial Real Estate/Shopping Malls
Government bodies
Food service Suppliers/Consultants
Key Takeaways
Identifying the growth drivers & business opportunities in Restaurant sector
Achieving Quality, Consistency & Food Safety in Multi-chain restaurant operations
Understanding the scope of Technology deployment in a conventional Restaurant design
Networking with HNIs, PE/VC & Funding bodies
Collaborating opportunities for Restaurant Franchisors & Franchisees
Comparing two business growth strategies - Company Owned vs. Franchise Stores
Learning best practices for Vendor selection process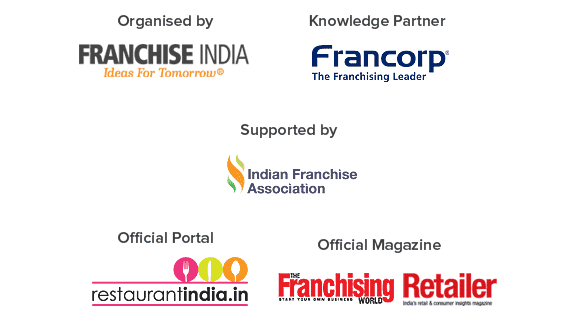 Copyright © 2017 Franchise India Holdings Ltd.
Powered by: