Hotline Nos. : +91 8595350505
REGISTRATION CLOSED

Thank you for making the Indian Restaurant East 2017 a grand success

Testimonials
I think the East India edition was a fantastic event and had the whole restaurant fraternity there, discussing and exchanging ideas and direction. I look forward to more events in Eastern India and a great future ahead.


- Chef Shaun Kenworthy, Celebrity Chef and Consultant

It's such a open forum platform where all industry experts can be able to listen . It's must attend event to keep yourself updated.


- Mr. Rohit Malhotra, Business Head- India, Barcelos

It was a pleasure attending the conference and a great learning.



- Chef Alok Anand, Executive Chef, JW Marriott Kolkata

The event was really grand and we enjoyed every bit of it. The sessions were well thought out and the insights shared were really great. Entire 6 Ballygunge Place family wants to thank the team responsible for putting such an effort successfully.


- Chef Sushanta Sengupta, Founder Director & Chef Savourites Hospitality Pvt Ltd

The event was a great initiative to bring together a lot of stakeholders of the restaurant and food service industry and discuss the challenges facing our industry.


- Chef Vikas Kumar, Executive Chef, Flurys Swiss Confectionery Private Limited

The Restaurant India 2017 Kolkata Edition was an ice-breaker for the Kolkata Restaurant Community. It is also acted as a gateway to East Indian market (including North-east). Franchise India has been known for organizing such events and Kolkata edition was one more proof.


- Nilesh Shah, Co-Founder, RanceLab
Restaurant India Awards 2017 is the top honour bestowed upon the greatest in the industry who have tirelessly dedicated their lives walking an extra mile to raise the bar of Food & Beverage Sector. This is a precious opportunity to excel your business and hear the elevating tunes of applause by the whole fraternity. These awards will put spotlight on exemplary contributions made by profound profound professionals and passionate restaurant brands. This recognition will enhance your business credibility and would help in restructuring your brand image.
After the six prestigious national editions and two regional editions, Restaurant India Awards comes to the food paradise – Kolkata. The evolved East India Restaurant market has been very positive in adopting varied food and gourmet cultures. It is the heaven for Craft Brewery Concept and Coastal Cuisines and is fast becoming the destination for fusion of traditional cuisines and global cultures.
While the QSR format is going bingo with the intellectual customer base across Eastern belt, the tech-savvy cities are keen to indulge into newer concepts and are ready to go on the amazing food discovery trails. Restaurant India 2017 Awards -East Edition is the platform where these innovators will be felicitated for taming the business challenges. These Awards will be presented at a glittering ceremony in front of eminent industry leaders and media.
Submissions are now open for Restaurant India Awards 2017, browse through the appropriate category and nominate yourself today!
Nomination and Evaluation
Each applicant would be required to fill in a Self-Nomination form and send it to us by 15th June 2017.
Any organisation/ entrepreneur/ allied sector can apply.
Each applicant can apply for one or multiple categories, except the ones which state 'Jury Nomination'.
Self-nomination forms should be sent along with the prescribed fee to Franchise India. The nominees in each category will be presented to the final jury for determination of winners
Jury decision is binding on all applicants.
Information received will be treated confidential and not used for any purpose except for determining the winners of the awards.
Incomplete questionnaire in any manner will disqualify a participant from participating in the awards.
Right to permit participation is reserved with the Awards management.
Non-refundable Policy: The organizer reserves the right to cancel the nomination profile in case of non-payment of awards nomination fee by the due date.
The Awards Nomination fee will not be refundable in case of last minute withdrawal by the participant.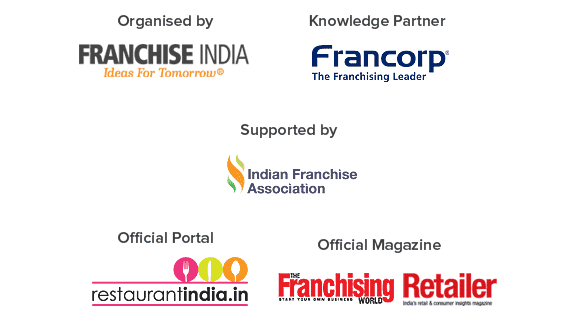 Copyright © 2017 Franchise India Holdings Ltd.
Powered by: