Hotline Nos. Awards: +91 8595350504, Conference: +91 8595350505, Exhibition: +91 8595350525
Conference
Awards
Exhibition
Indian Restaurant Congress 2015
August
25 - 26, 2015,
J.W.Marriott, Aerocity,
New Delhi
5th National Convention & Awards
on Business of Restaurant
500+ Food Service Professionals,
300+ Restaurant Brands, 1000+ Awards
Nominations, 50+ Global Experts & Innovators, ONE MEGA SHOW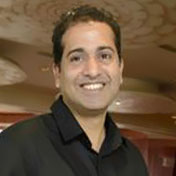 Chef Michael Swamy,
Celebrity Chef,
Food Designer, Author
"The Food & Beverage Industry today seems to consume one's life. F&B professionals derive pleasure from keeping their patrons and guests happy and satiated, many times forsaking all other pleasures in the bargain"

Chef Michael Swamy has more than 20 years of experience. He studied hospitality at Sophia College - HAFT and Le Cordon Bleu Culinary School in London, where he trained under Michelin Star Chefs - Chef Andrew Males, Chef Mathew Hardy amongst other.

Started his career from Taj Group of Hotels (Mumbai), he worked with Bombay Brasserie (London) and Noon Products UK. He was also the Menu Planning Officer with Kuwait Airways.

Known for Food styling & photography, Chef Michael has creatively contributed to a number of cookery books. His cookbook, The East Indian Kitchen (2010) has also won The Gourmand Award in Paris (2012) for Best Indian Cookbook. The Indian Chefs Association has listed him as one of the Top 50 Chefs in India in 2012 and again in 2013.

Last year, he became the first Indian chef to have an APP to his name.