Hotline Nos. Awards: +91 8595350504, Conference: +91 8595350505, Exhibition: +91 8595350525
Conference
Awards
Exhibition
Indian Restaurant Congress 2015
August
25 - 26, 2015,
J.W.Marriott, Aerocity,
New Delhi
5th National Convention & Awards
on Business of Restaurant
500+ Food Service Professionals,
300+ Restaurant Brands, 1000+ Awards
Nominations, 50+ Global Experts & Innovators, ONE MEGA SHOW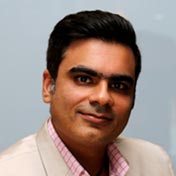 Mr. Vikrant Batra
Owner,
Café Delhi Heights, & Café Terminus 1
"Delhi has witnessed the rule of many Emperors from varied cultures and regions of the world. Therefore it has adopted all kinds of traits in its culture. Food being an integral part of that adaption, we at CDH have tried to encapsulate all those flavours giving you the look and feel of the capital in its totality."

Vikrant Batra is an established stalwart in the Indian F&B industry with ingenious concepts of his stand-alone ventures. A graduate from Hindu College, Delhi University, Mr. Batra has completed a Restaurant Management course from the University of California. Mr. Batra completed his MBA from Fore School of Management. Starting off by working in his inherited business at Batra Banquets, Mr. Batra opened his first Delhi Heights Restaurant in Rajouri Garden in 2009.

In 2011, Mr. Vikrant inaugurated Café Delhi Heights, which currently has five outlets. Café Delhi Heights opened at Terminal 1D in May 2015 and is on its way to open several more incredible outlets in Delhi-NCR in the year 2015. Proving his go-getter attitude, he opened Palm Springs, a state-of-the-art boutique hotel in Naraina in 2013. Also, he has started Terminus 1, which is one of its kind fusion restaurants, providing different varieties of food from 17 countries.
11:40 - 12:40
FEEDING THE FUTURE: GETTING THE INDUSTRY AND CONSUMER TO BE ALIGNED
Session Moderator: Mr. Abhishek Malhotra, Partner, AT Kearney

Mr. Priyank Sukhija, Owner, Lazeez Affaire Group
Mr. Zorawar Kalra, Managing Director & Founder, Massive Restaurants
Mr. Mohit Khattar. Managing Director & CEO, Nature's Basket
Mr. Dheeraj Gupta, Managing Director, Jumbo King Foods Pvt. Ltd.
Mr. Vikrant Batra, Café Delhi Heights & Café Terminus 1
Mr. Vaibav Kumaravel, Partner, The Chinese Story