62

+

Nomination Categories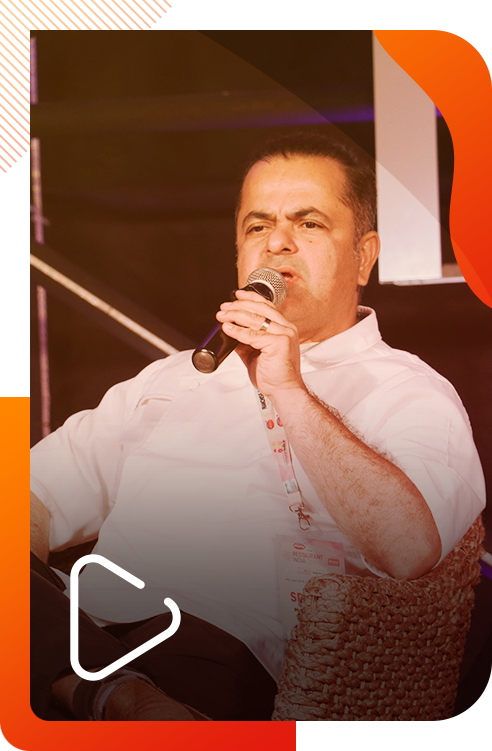 About
The Event
The Juggernauts of restaurant business in West has been so very impactful in evolving the overall business fundamentals, that there existed a need for creating a unique platform that will behave as the sponge of knowledge grasping and sharing.

Indian Restaurant Congress Mumbai is one such effort that will be aimed at initiating industry dialogues within peer groups.

The Theme for Indian Restaurant Congress, Mumbai revolves on building RESTAURANT 2.0. The show will conclude with gala awards ceremony honouring the train blazers of the food & beverage industry.
Why attend
Restaurant India West
Meet
Visionary People
With nearly 300 Restaurant Owners Restaurant India will give you better networking than anywhere else
Hear
Visionary Ideas
Restaurant India brings together top minds on critical topics to inform, inspire and help transform businesses.
Leave
with a Vision
You'll leave Restaurant India with tangible takeaways to transform your business in the year ahead.
Experience
Visionary Tech
From our Food Innovation Lab to EXPO experiences to Startup Zone, attendees get hands-on with the future of restaurant industry.
Aishwarya Bhende Founder & Director,
AB Celestial

Ashish Sajnani

Director, Opa Hospitality

Altamsh Patel

Executive Chef, The Park, Mumbai

Krishnakant Thakur

Co-Founder & COO, Charcoal Eats

Rachel Goenka

Founder & CEO, The Chocolate Spoon Company

Nandini Mansinghka

CEO and MD, Mumbai Angels Network

Sharad Sachdeva

Director of Operations, L Catterton

Shraddha Bhansali

Owner, Candy & Green- Pride of Lions Hospitality Pvt. Ltd.

Anirudhya Roy

Executive Chef- Taj Lands End Hotel

Prahlad Sukhtankar

Managing Partner & Sommelier, The Black Sheep Bistro

Gaurav Dewan

COO & Business Head, Travel Food Services

Manoj Balan

Director Finance, Gaja Capital

Animesh Damani

Group Director, Artha Group of Companies

Tanmay Kumar

CFO, Burger King India

Karan Tanna

Founder CEO, Yellow Tie Hospitality

Hitesh Keswani

Founder & Director - Silver Beach Entertainment and Hospitality Pvt Ltd.

Anjan Chatterjee

Founder & MD, Speciality Group of Restaurants

Mujeeb-ur-Rehman

Chef and Restaurateur

Gaurav Gidwani

Food and Beverage Director, Corum Hospitality

Chef Sanjyot Keer

Food Producer & Founder, Your Food Lab

Rahul Dhavale

Executive Chef, The Westin Mumbai Garden City

Reynold Fernandes

COO, Foodlinks Restaurant

Vineet Manocha

Sr. Vice President-Lite Bite Foods Pvt. Ltd.

Conference

Keep Brand Fresh & Relevant
for & Beyond
Right 'Money' finding
Right 'Concepts'
Unlocking the Potential
of the Biz
Delivering the Right
Experience at The Table

Future of Food Service
at Home
AI in Food Service
Inside the Craft Beer
Revolution

CFO Perspectives on
Tech and Delivery
Awards
West
Best Restaurant of the Year- Pune
Best Restaurant of the Year- Mumbai
Nightlife Awards
Best Restaurant of the Year- Pune
Best Restaurant of the Year- Mumbai
Cafe & Bakery Awards
Best Restaurant of the Year- Pune
Best Restaurant of the Year- Mumbai
Design Awards
Best Restaurant of the Year- Pune
Best Restaurant of the Year- Mumbai
Exhibit
Understanding this growing need and opportunity for integrated Restaurant businesses, we are pleased to share with you that parallel to the convention there will be an expo designed as one stop shop for exploring: best technology suppliers, innovative tools, ink tie-ups with best in league distribution channels, co-branding alliances, international development opportunities. You could plan a perfect Business, Product Display, Showcase and Launch opportunity to a niche audience of over 500+ key decision makers and brands from the restaurant industry.
[ X ]
REGISTRATION CLOSED
Thanks to all our Sponsors, Exhibitors, Speakers, Delegates, Nominees, Partners and Visitors for making the show bigger & better.
We will see you again in 2020!