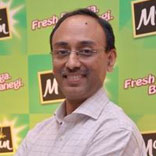 Mr. Vikas Mittal
Managing Director, McCain Foods India Pvt Ltd
Vikas Mittal is the Managing Director at McCain Foods India Pvt. Ltd. He has over 20 years of experience working across most competitive FMCG categories including Hair care, Skincare, Foods and Beverage, Laundry, Homecare, OTC and Healthcare.

Vikas is an alumnus of IIM (Indian Institute of Management) Lucknow and Delhi College of Engineering.

In his previous assignment, Vikas was working with Dabur India Pvt. Ltd where he was Executive Vice President (Marketing) for Dabur's Personal and Home Care Division and subsequently moved as Head of Innovations, Dabur India Pvt. Ltd.

Prior to joining Dabur, Vikas has held key positions in India, the Middle East, Africa and South East Asia in organisations like Proctor and Gamble & Friesland Campina (a Netherlands-based Dairy Cooperative).