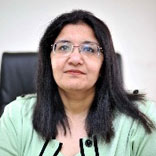 Ms. Padmaja Ruparel
President, Indian Angel Network (IAN)
An entrepreneur, senior management executive, an Angel Investor, Ms. Padmaja Ruparel is today the President of Indian Angel Network (IAN). It is India's first and Asia's largest group of business angels, comprising the who's who of successful entrepreneurs and dynamic CEOs from India and overseas. This 'For Entrepreneurs, By Entrepreneurs' platform now has over 200 investors with a portfolio of 36 companies across multiple sectors and geographies; operating across five cities, providing exits such as 11.5 x over 42 months, with over 350 entrepreneurs approaching the network month on month.

Ms. Padmaja has established a unique model of an incubator, based on domain expertise and mentoring portfolio, which now has a portfolio of 26 incubate companies, growing quickly to attract seed funding within six months of incubation

As a key player in the entrepreneurial eco system of India, she operationalised the TiE World's best chapter - TiE Delhi chapter and revived the Indian Venture Capital Association, India's oldest and largest association of VC and PE firms as CFO of the organisation.