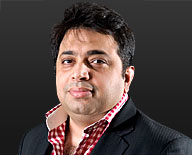 Gaurav Marya
President, Franchise India,
Chairman, Indian Franchise Association
Celebrating the spirit of Indian Food Service Industry
The Indian eating out industry is slated to grow at appox .20 % pa. The restaurant market in India is clearly calling for an exponential expansion, requiring companies to open more restaurants, faster and in optimal locations. Majority of the beneficiaries will be the stand alone restaurant operators expanding in an organized format. The Indian Restaurant Congress in its second edition will focus on "Thinking Big. Acting Fast " designed to give restaurant fraternity the tools they need to take advantage of the many opportunities which exist today within the shortest timeframe.

What a difference an year can make. In my professional capacity and interaction with many Food service operators, I have seen the restaurant industry shifting its focus from "Should I grow" to "How should I grow" ?The sizzle in the industry fumes expansion and with most economic indicia looking favourable, now is the time for astute restaurant operators to plan the next phase in their company's growth.

With an attendance from over 300 key food service operators, both from India & overseas in 2011, the Indian Restaurant Congress has created a benchmark for the restaurant fraternity for covering every tier of the food service sector, bringing together what really matters in strategic and operative terms and showcasing the best of radical evolutions that eventually builds up robust future by combining the macro with micro, encapsulating consumption trends and market potentials with success factors. The Indian Restaurant Congress is being regarded as the most credible B2B food service forum in Asia, and with the industry's support we aim to make this forum even bigger as we create world class prospects for all the stakeholders in the Food Service Ecosystem, bringing to the forefront the bigger questions which deals with building capabilities while retaining the local aspect of business.

This year's conference focuses on " Thinking Big. Acting Fast ". We have designed the content to give restaurant fraternity the tools they need to take advantage of from the many opportunities which exist within the shortest timeframe. In keeping with this theme, several of those restaurant operators who have managed significant growth will share their views and strategies on how they have managed to capture new customers, increase market share, and improve unit sales. Several approaches will be discussed at the forum, including the use of strategic business growth programmes, creating appeal to basic family values, engendering a general sense of fun and excitement, harnessing the power of social media, and demonstrating how "socially sustainable growth " and being environmentally ideal can make you a leader. There are many options, and it is critical that operators find the alternative that resonates with their company and their customers.

Industry experts including Chefs, Restaurant Operators, International F&B Experts, Corporate Leaders and Leading Suppliers will provide guidance on what the year ahead will hold from the perspectives of macroeconomic, restaurant-specific, and consumer trends. We have an outstanding Conference Chair to lead us this year, Mr Niren Chaudhary, MD of Yum Restaurants India, who has truly given a remarkable direction to this industry.

I Look forward to welcoming you at the Indian Restaurant Congress.