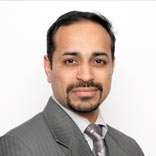 Mr.Deepak Behl
Chief People Officer, Kwality Group
Deepak Behl is working as Chief People Officer with Kwality Group, which is a brand name in Fine Dining and Quick Service Restaurants with famous brands including Kwality, Colour and Spice, Chopsticks, Tonic, Angithi, Orient Room, Nirvana, Gaylord, Bread & More and Kwality Express.

He started his career with CRPF as Dy. Supdt. of Police (Asst. Comdt.). He served in 10 states heading the most responsible positions. Then, due to unavoidable circumstances he had to change his line. He then did his MBA (HR) from IMT and passed out from IIM, Lucknow.

Deepak has a working experience of about 17 years with companies like BPL, The Oberoi Group of Hotels, Gap Inc. (American MNC), InterContinental and Hilton Hotels. He has been recognised as Indian Hospitality's emerging talent and has been honoured as a Young Achiever for 2008. Recently, he has been honoured by MDU for his unmatched contributions in the field of Hospitality and Tourism. He was nominated for UN and UNESCO Award for Best Business Practices in 2010.