Hotline Nos. Awards: +91 9313034080, Conference: +91 8595350505, Exhibition: +91 8595350525
REGISTRATION CLOSED

Thank you for making the Indian Restaurant Congress 2016 a grand success

Indian Restaurant Congress 2016
Now in its sixth year the Indian Restaurant congress is the leading Business and Knowledge platform for the restaurant, fast-casual, QSR, hotel food services and contract catering sectors.
Going by the industry analysis and the future market spotlight, Indian Restaurant Congress 2016 is themed #DOTHENEW . Indian Restaurant Congress will be building and nurturing the food service innovation ecosystem by supporting entrepreneurs and creating platforms for collaboration. It is the platform where restaurants, chefs, brands would find future business models, menu, Ideas to address tomorrow's market demand.
Who should attend?
Chain store/standalone Restaurant Owners
Multi-Unit Restaurant Franchisees
Executive Chefs
F&B Directors
Professionals managing operations - finance, marketing & SCM functions
Investors/Entrepreneurs looking to start a Restaurant Business
Key Takeaways
Identifying the growth drivers & business opportunity in Restaurant sector.
Achieving Quality, Consistency and Food safety in Chain restaurant operations.
Identifying the Growth drivers and Business opportunities in Restaurant sector.
Understanding the scope of Technology deployment in a conventional Restaurant design.
Networking with HNIs, PE/VC and Funding bodies.
Collaborating opportunities for Restaurant Franchisors and Franchisees.
Comparing two business growth strategies - Company owned vs. Franchise stores.
Learning best practices for Vendor selection process.
Restaurant Industry Products/Services/Solution Providers
Food manufacturers & ingredient and raw material private label suppliers
Menu R&D experts
Processors and packers
Bankers & Financial Institutions
Angel, PE, VC investors
Supply chain and logistic providers
Retail design and shop fit firms
Trade associations and trade press
Commercial Real Estate/Shopping Malls
Government bodies
Food service Suppliers/Consultants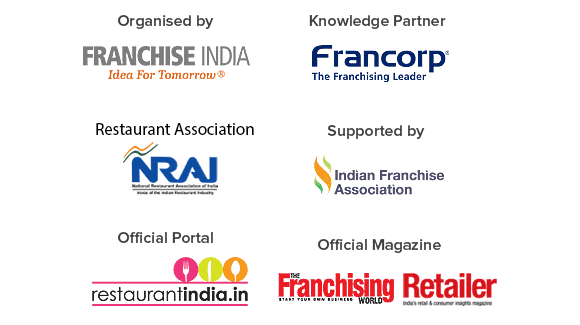 Copyright © 2016 Franchise India Holdings Ltd.
Powered by: