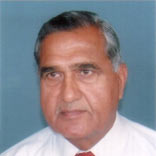 Mr. R Kumar
Chairman & Managing Director, Continental Equipment India Pvt. Ltd.
Mr. R Kumar is Chairman & Managing Director and founder of Continental Equipment India Pvt. Ltd. Having been a part of the Hospitality and Food Industry for more than three decades, he has innumerable accomplishments and has played a very strong role in pushing the whole industry forward through his personal and collective efforts in various associations and organisations.

He has designed planned, equipped and consigned more than 5,000 kitchens. The list includes kitchens for hotels, restaurants, fast food chains, industrial canteens, hospitals, railways, clubs, etc.

With his efforts, he has made Continental a name to reckon with in the International arena of Food Service Equipment. Some of the most important kitchens that he has been involved with include the kitchens at all TAJ, OBEROI, ITC, Sarovar, Park, Inter Continental, Hyatt, etc. He has also designed and equipped specialised kitchens such as Asha Dubai, Steel Ashoka Delhi, Bali Hi Maurya Delhi, McDonald's India, Pizza Hut, KFC, Palace on Wheels, Akshardham Mandir, etc.

Under his leadership, Continental is today the country's largest food service and bakery equipment manufacturing company.